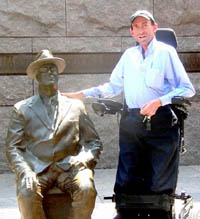 Brett Leake, one of our nation's top sitdown standup comics, works as a clean corporate comedian and funny motivational speaker. Brett provides humorous keynote presentations tailored to educational conferences and healthcare, aging, and caregiving conventions. With several appearances on The Tonight Show he continues to appear on the public broadcasting comedy special, Laughing Matters with Brett Leake.
Brett's an 'entertainment with a message' speaker. The entertainment is standup comedy squeaky clean 'above the belt' and 'between the ears'; the message, pulled from his experience living with muscular dystrophy and presented in short light anecdotes, is life is lived fullest not in spite of the problems but because of them.
His inspiring presentations leverage his success at overcoming adversity to focus on creativity, managing change, life balance, and personal growth. He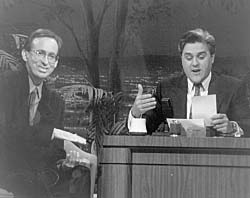 weaves into the entertainment recent findings in emotional intelligence research; why humor is essential in our lives, how one can develop a humor lens, and the notion that if we attend to a few core needs we and our colleagues can communicate more effectively, feel less of a divide between work and home, and find what suffices.
A life appreciation and gratitude inspirational speaker, book Brett when you want motivational comedy and clean, funny corporate comedy entertainment customized to your convention, corporate event or celebration.