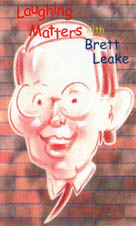 A Clean Comedy TV Show?: Is there a clean comedy TV show and how can I see it?

Yes! and by ordering this.
DVD copies of Laughing Matters with Brett Leake are available.
Anyone interested in purchasing a DVD copy of the program may do so by sending a check or money order for $24.95 to:
John Felton, Vice President and General Manager
c/o WCVE Richmond
23 Sesame Street
Richmond, VA 23235
jfelton@ideastations.org
Direct Line: 804-560-8120
$24.95 INCLUDES shipping and handling.
Please make out checks or money orders to Community Idea Stations.
Broadcast rights for Laughing Matters with Brett Leake have been extended for an additional year. Participating stations are free to play the program between May, 2012 and May, 2013, so please check your local listings for times and dates in your area.
The rights extension and the DVD offer are a direct result of the interest viewers have expressed in the show. Brett received hundreds of emails through this link alone from viewers who "had the TV on in the other room, heard laughter and something about carrying pi out to four places, stopped what I was doing and found myself laughing at the TV." I'm glad you did.
Reminder: Closed captioned versions of Laughing Matters with Brett Leake are available. Should you wish a closed captioned copy just let John Felton know.